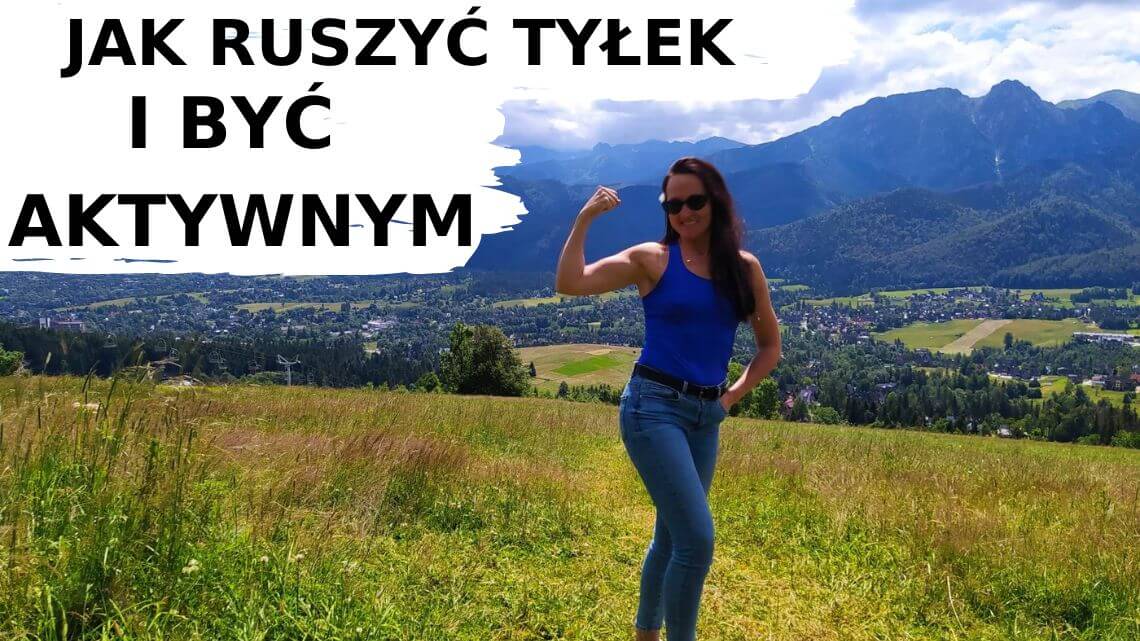 AKTYWNOŚĆ FIZYCZNA TO LEK NA STRES, NADWAGĘ, ZMĘCZENIE I NISKIE LIBIDO
Dzisiaj trochę o aktywności fizycznej.
Gdyby ktoś Ci powiedział, że dzięki aktywności fizycznej możesz uniknąć zaburzeń poznawczych na starość. Że dzięki ruchowi możesz mieć wyższą samoocenę, mieć więcej pewności siebie, mocniejsze kości i ładniejsze ciało to by Cię przekonało do tego żeby się ruszać?
I to nie musisz wierzyć na słowo, ale jest mnóstwo badań na temat wpływu umiarkowanej aktywności ruchowej na zdrowie człowieka.
Ja wiem, że często się nie chce, że nie masz w nawyku. Ale to wszystko można wypracować. Tylko trzeba sobie uświadomić i zdobyć wiedzę, że aktywność fizyczna to lek na wiele chorób. I, że Ty nie chcesz chorować, chcesz dożyć fajnej starości.
Jak sobie wyobrażasz swoją starość?
Co czujesz jak widzisz schorowane, starsze osoby?
Ja chcę być aktywna i szczęśliwa. A Ty?
Jeśli zdecydujesz, że też chcesz być zdrowy, aktywny i zadowolony to już teraz możesz na to pracować. I właśnie jedną z tych rzeczy, które daje zdrowie i je poprawia ruch.
Dzięki regularnej aktywności fizycznej możesz zapobiec wielu chorobom przewlekłym i przedwczesnej śmierci. Ilu ja znam 40 latków, którzy już biorą leki na nadciśnienie i cholesterol. I wiesz jaka jest ich wspólna cecha? Brak ruchu! Nic.
Badania mówią, że istnieje stopniowana liniowa zależność między natężeniem aktywności fizycznej a stanem zdrowia, tak że najbardziej aktywne fizycznie osoby są w grupie najmniejszego ryzyka (mowa o amatorach sportu nie wyczynowcach). Jednak największą poprawę stanu zdrowia obserwuje się, gdy osoby najsłabiej sprawne stają się aktywne fizycznie.
Systematyczna aktywność fizyczna wiąże się również z poprawą samopoczucia psychicznego (np. poprzez zmniejszenie stresu, lęku i depresji). Dobre samopoczucie psychiczne jest szczególnie ważne dla zapobiegania chorobom układu krążenia ale ma również ważne implikacje dla zapobiegania i leczenia innych chorób przewlekłych, takich jak cukrzyca, osteoporoza, nadciśnienie, otyłość, nowotwory i depresja.
Aktywność fizyczna ma duże znaczenie na prewencję chorób z grupy zaburzeń poznawczych ponieważ wpływa bezpośrednio na naczynia mózgowe.
Ale ile tej aktywności.
Ćwiczenia powinny być wykonywane co najmniej umiarkowanie. Czyli musisz się spocić i trochę zmęczyć. Wytyczne dotyczące aktywności fizycznej dla dorosłych dotyczą ćwiczeń aerobowych o umiarkowanej intensywności przez 150-300 minut tygodniowo oraz ćwiczeń wzmacniających mięśnie 2-3 razy w tygodniu.
Czyli np. 3-6 razy w tygodniu spacer, rower, nordic walking i inne prze 30 minut i ćwiczenia wzmacniające na siłowni, bądź inne z ciężarem własnego ciała 2-3 razy w tygodniu. Osoby starsze mają takie same wytyczne dotyczące aktywności fizycznej ale dodatkowo potrzebują treningu równowagi, aby zapobiec upadkom.
Ale oczywiście jak z każdym nawykiem nie rzucaj się zmotywowany od razu do tylu treningów.
Zacznij małymi krokami, metodą Kaizen.
Chcesz biegać? Zacznij od tego, że rano wtedy kiedy planujesz pobiegać zakładasz buty do biegania i stoisz w nich minutę. Tak, to działa. Następnego dnia wyjdź ubrany jak na bieganie i postój chwilę za zewnątrz. 3 dnia przejdź się przez 5 minut. Potem wydłużaj spacer. Zacznij truchtać przez 1 minutę. W ten sposób nie zaserwujesz swojemu mózgowi szoku, wielkiej niewygody i jest dużo większa szansa, że to bieganie wejdzie w nawyk.
Masz dzieci? Zacznij od wspólnych wieczornych 15 minutowych spacerów. Oderwiecie się od telefonów, przewietrzycie na "świeżym powietrzu", zmobilizujecie ciało do pracy i spędzicie razem czas. A potem to wydłużajcie.
Siłownia? Podobnie. Zacznij od 1 treningu w tygodniu i najlepiej z trenerem.
Możesz tez zacząć ćwiczyć w domu. Zapraszam Cię do moich treningów na moim kanale na you tube. Zacznij od 1 w tygodniu i najlepiej tego 4 minutowego.
Co może ci się przydać do treningów w domu:
Ja teraz weszłam w nawyk, już nawet nie myślę o tym, że mam iść na trening tylko ubieram się, biorę buty, ręcznik, wodę i słuchawki i jadę na siłownie w poniedziałki, wtorki i piątki. Gdy jest ciepło często jeżdżę rowerem lub na rolkach do pracy (11km w jedną stronę). Gdy zimno pedałuje w domu lub idę na spacer z moim mężem. Planuję dodać jogę bo człowiek z wiekiem drewniany się robi.
I wiecie co?
Odkąd już tak regularnie trenuję czuję się dużo lepiej. Psychicznie i fizycznie. Moje ciało się zmieniło, mam więcej pewności siebie, mam energię.
Oczywiście żeby nie było, że mi to tak łatwo idzie;) Bywa, ze idę bez chęci i ziewam na treningach ale idę bo wiem, że potem będę się czuła dużo, dużo lepiej. Bardzo polecam i zachęcam, żeby w ten sposób albo poprawić swoje zdrowie albo utrzymać jak najdłużej dobrą formę.
Abyśmy byli zdrowi i aktywni do końca.
Czego Wam i sobie serdecznie życzę;)