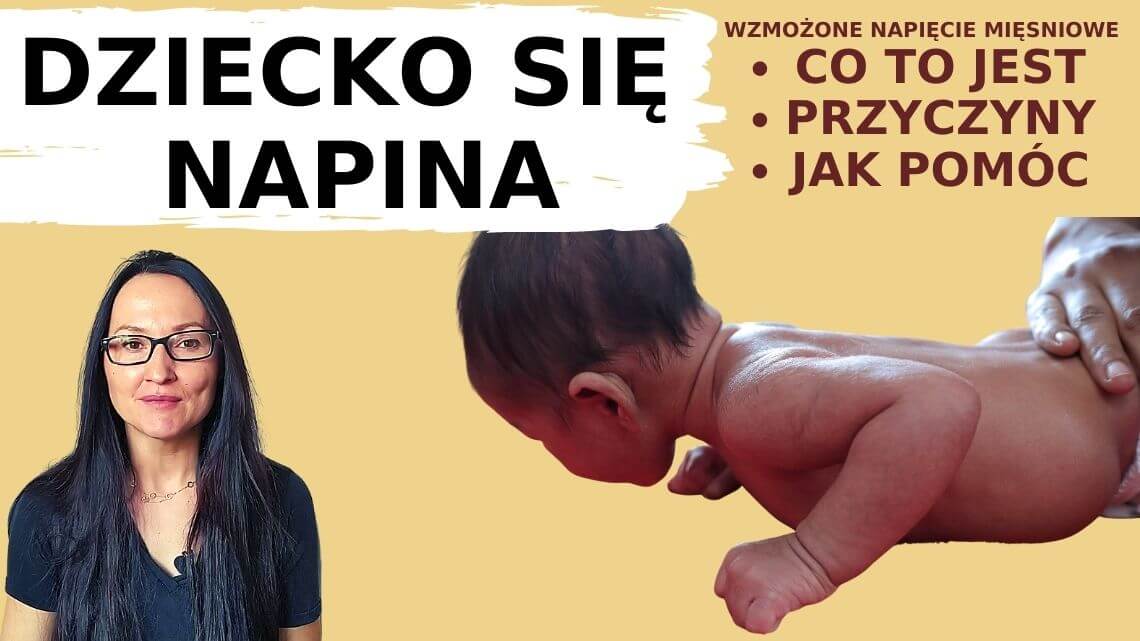 Twoje dziecko się napina?
Temat jest ostatnio coraz bardziej popularny z uwagi na to, że coraz więcej dzieci ma wzmożone napięcie mięśniowe. 
Często w gabinecie, kiedy przychodzą do mnie rodzice z niemowlętami, słyszę, że dziecko ma napięcia. Napięcie mięśniowe ma każdy, zawsze. 
Spoczynkowy tonus mięśniowy kiedy jest ok oscyluje wokół jakiejś normy. Kiedy spada poniżej normy, oznacza to, że mamy do czynienia z obniżonym napięciem mięśniowym czyli hipotonią. Kiedy jest wyższe niż norma to mówimy o hipertonii czyli wzmożonym napięciu mięśniowym. Napięcie mięśniowe kontrolowane jest przez układ nerwowy i reguluje pobudzenie mięśni w ciele. 
Przyczyn występowania wzmożonego napięcia mięśniowego jest wiele, więcej niż obniżonego. Między innymi są to:
nieprawidłowości genetyczne

przyjmowanie leków w ciąży

stres w ciąży

urazy w ciąży

nieprawidłowości okołoporodowe (niedotlenienie spowodowane owinięciem pępowiną, urazy itp.)

nieprawidłowa pielęgnacja 

zaburzenia sensoryczne (np. nadwrażliwość przedsionkowa, słuchowa, dotykowa)

refluks, kolki, zaparcia, wzdęcia

alergie
Występowanie u dziecka wzmożonego napięcia mięśniowego charakteryzuje się, tak, że dziecko się:
odgina, 

pręży, 

prostuje nóżki,

 chowa szyję, 

zaciska piąstki, 

ciężko mu umyć szyję, ubrać itd
Duże zaburzenia w obrębie napięcia mięśniowego mówią o uszkodzeniu układu nerwowego natomiast większość dzieci jest zdrowa i terapią neurorozwojową można dziecku bardzo pomóc bądź nawet zmianą sposobu noszenia itd. 
Warto udać się z dzieckiem do fizjoterapeuty dziecięcego, żeby ocenił dziecko i dał Wam wskazówki i narzędzia, żeby dziecko mogło się lepiej rozwijać. Ponieważ przy hipo i hipertonii jakość aktywności spontanicznej jest słabsza niż u dzieci, które nie mają zaburzeń napięcia mięśniowego. 
Jak pomóc dziecku ze wzmożonym napięciem mięśniowym (oprócz konsultacji u fizjo):
naucz się prawidłowo nosić i pielęgnować dziecko (zobacz mój poradnik na kanale Youtube jak to robić)

masuj powoli dziecko

wykonuj ruchy wolniej podczas pielęgnacji

unikaj pozycji wyprostnych, noś dziecku w pozycji zgięciowej

bujaj dziecko w kocu czy hamaczku

masuj brzuszek wg wskazówek zegara 

podłóż pod pupę coś na kształt klina aby nóżki były wyżej

obłóż dziecko wałeczkiem z ręcznika po bokach
Dzięki wykonywaniu zaleceń fizjoterapeuty i terapeuty integracji sensorycznej dziecko lepiej się rozwija i bywa, że niewielkie zmiany przynoszą duże rezultaty.
Ale pamiętaj, że na to mają wpływ również Twoje emocje. dziecko bardzo czuje to jak my się czujemy. 
Jak jest u Twojego niemowlaka?